FAVOLOSO



10 DAY/ 9 NIGHTS  ROME, FLORENCE, VENICE,
TUSCAN COUNTRYSIDE & THE AMALFI COAST
4 STAR HOTELS • MONDAY & SATURDAY DEPARTURES

………………………

ROME • ASSISI • SIENA • FLORENCE • BOLOGNA •


…………………….

PADOVA • VENICE • MONTEPULCIANO (WINE REGION) •


…………………..

ROME • NAPLES • SORRENTO • CAPRI • SORRENTO • ROME

                        This tour is ideal for those wishing to experience the highlights including Rome,
………………….Florence & Venice, while adding a side trip to the sunny seaside area of Italy.
………If you have already booked your accommodation – let us know where you will be staying and we
will pick you up right from your door! If you have not booked accommodations yet before the tour,
………………be sure to ask as for our pre-tour discounted hotel stays. Benveunti- Welcome!
INCLUSIONS:
DAILY BREAKFAST
FOUR STARS HOTELS ACCOMMODATION ( 9 NIGHTS)
SIGHT SEEING OF COUNTRY , COAST AND CITY TOURS AS PER ITINERARY (HIGHLIGHTS INCLUDE:FLORENCE HISTORIC CENTRE, THE ACCADEMIA- MICHELANGELO'S "DAVID" STATUE, UFFIZI GALLERY, BRUNELLESCHI'S DOME, LEANING TOWER OF PISA(OPTIONAL), TUSCANY WINE COUNTRY,ROME: PIAZZA NAVONA, PANTHEON, TREVI FOUNTAIN, AND SPANISH STEPS; POMPEII, MT. VESUVIUS, CAPRI, & BLUE GROTTO)
MULTILINGUAL TOUR GUIDE
2 LUNCHES (DRINKS NOT INCLUDED)
6 DINNERS (DRINKS NOT INCLUDED)
WINE TASTING WITH LOCAL PRODUCTS
GROUND TRANSPORTATION BY AIR- CONDITIONED MOTOR COACH AS PER ITINERARY
ENTRANCE FEES AS PER ITINERARY
NOT INCLUDED:
TIPS, DRINKS, PORTAGE, EXTRAS
MANDATORY CITY TAX (1.5-7EURO, PER PERSON PER NIGHT)
EVERYTHING THAT IS NOT MENTIONED UNDER "INCLUSIONS"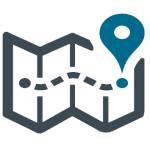 ITINERARY:
DAY 1 – ROME

Departing at 7:15am from the hotel Diana by a deluxe coach, you will arrive in Assisi, where you can explore this tiny town, surrounded by walls built in the middle ages, at your own leisure. Make time to visit the basilica of St. Francis, where you will see masterpieces by Giotto and Ciambue, and to have lunch (not included). Board the bus for Siena, a medieval town surrounded by ancient walls that is known for the Palio, an annual summertime horse race around the shell-shaped town square, Piazza del Campo. Next, you will continue on to Florence, where you will check in to your hotel before enjoying dinner and a well-earned night of rest.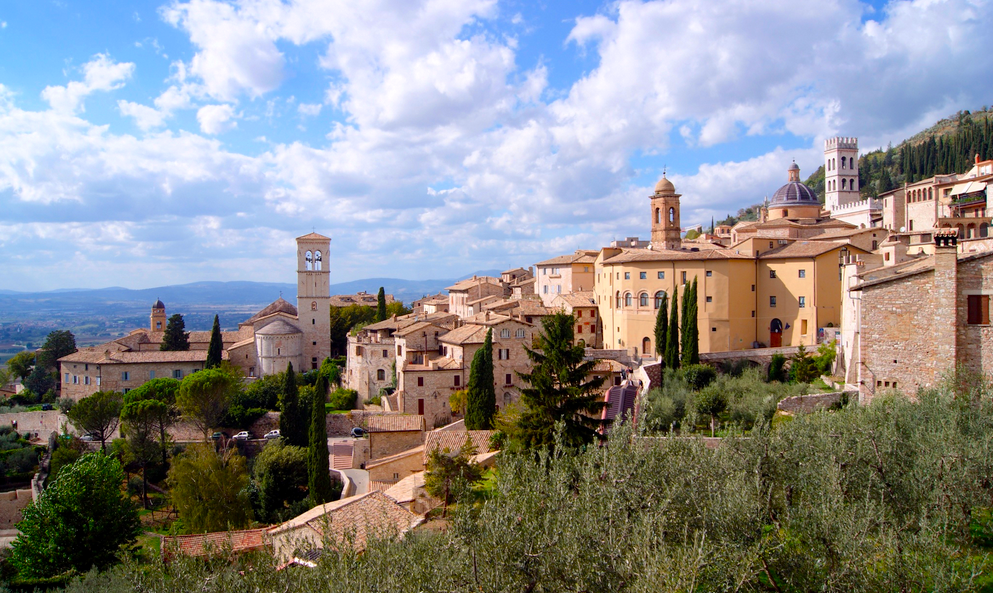 DAY 2 – FLORENCE
After breakfast, you will spend the day venturing around beautiful Florence, the "cradle of renaissance" ,where, with the help of Michelangelo, Italian art reached its pinnacle. Based on Etruscan-roman origins, the city flourished in the middle ages as a free "comune" and was further refined by the renaissance. You will be fascinated by its numerous monuments, churches, and buildings, as Santa Maria del Fiore, more commonly referred to as the Duomo. On your visit, you will be amazed by its magnificent dome built by Filippo Brunelleschi. Cross a small piazza to see the campanile tower (partly designed by Giotto) and the baptistery, with its bronze doors that Michelangelo dubbed the "gates of paradise." In the heart of the city, you will see Piazza della Signoria, Palazzo della Signoria (also known as Palazzo Vecchio), and the basilica of Santa Croce. Spend the afternoon strolling the cobblestone streets of Florence on your own or take a short trip to Pisa (optional to be paid on the spot), one of the four main historical marine republics of Italy. There, you will tour the square of miracles, which houses the Duomo, the leaning tower, and the baptistry. Florence dinner in a typical Tuscany restaurant in Santa Croce square and overnight stay.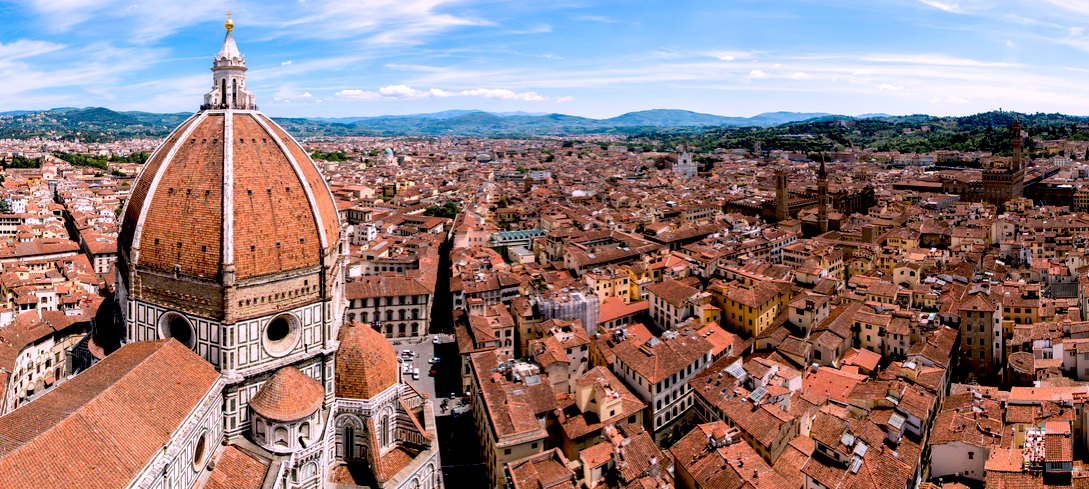 DAY 3 – FLORENCE/ BOLOGNA/ PADUA/VENICE

Depart for Bologna after breakfast in Florence. There, you will wander through the city's 38 kilometers worth of elegant arcades (or porticos), for which Bologna is famous. From Piazza Malpighi, we will walk to Piazza del Nettuno and Piazza Maggiore (Neptune square and Major square) in the heart of the city, where you will find Neptune fountain; King Renzo Palace; Podestà Palace; and the basilica of San Petronio, one of the biggest in the world. In the afternoon, continue toward Padova, with its original Sant'Antonio basilica. Later, you will arrive in Venice, world- renowned for its classic gondola boats and its elegant, refined art. Check in to your hotel and enjoy your first venetian dinner and overnight stay.
DAY 4 – VENICE

Hit the water after breakfast as you board a private water bus to enjoy St. Mark's square, interior visit of the splendid cathedral , the Dogi palace, a symbol of the glory and authority of Venice as it housed the seat of the government and the court of justice. Nearby you will see the legendary bridge of sight. Spend the afternoon roaming along Venice's canals at your leisure and then return to the hotel for dinner and relaxation.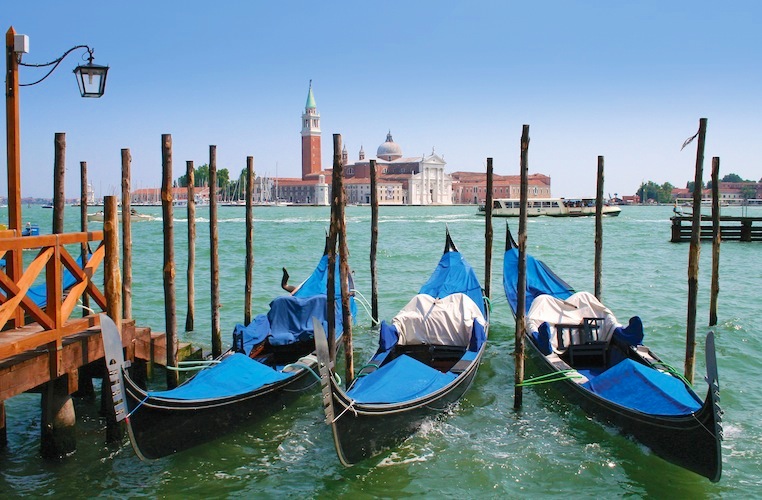 DAY 5 – VENICE/ MONTEPULCIANO (TUSCANY WINE REGION)/ ROME

Once you eat breakfast, depart from Piazzale Roma to Tuscany, known for its romantic churches and castles and its delicious wines. You will proceed to val di chiana with a stop in Montepulciano, a medieval town rich with history and art. Known for its "nobile" wine, which can be purchased in wine houses in town, Montepulciano is also the host of an annual jazz and wine festival every July. Spend the afternoon getting to know Montepulciano at your own pace, free wine tasting in many shops and free time for shopping. In the evening, you will arrive in Rome, and overnight.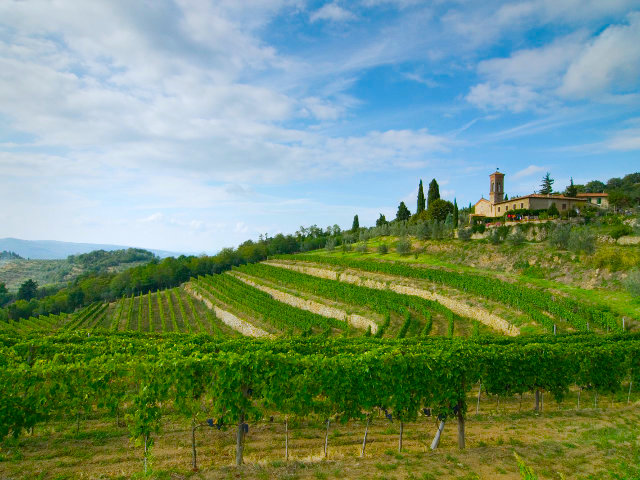 DAY  6 – ROME

After breakfast, head out to enjoy the morning with a 3 hrs "Discovering Rome", walking tour (English only). You will be picked up at your hotel at about 9.00am. The tour will start from Largo Argentina and continue to Campo de' Fiori, Piazza Farnese, Piazza Navona, Pantheon, Trevi Fountain, Spanish steps. Rest of the day at leisure and overnight. Dinner is not included.

DAY 7 – ROME/NAPLES/POMPEII/SORRENTO

American buffet breakfast. Pickup at 7.00am at the hotel and departure from Rome to Naples by coach with a multilingual tour leader. Upon arrival in Naples our local guide will take you for a walking tour of the historical centre to admire the Piazza del Plebiscito, the Royal Palace, the Gallery of Umberto I, and the San Carlo Opera House. From Naples, continue to Pompeii, and enjoy a short visit to a coral and cameo factory. Lunch in a typical restaurant, followed by a visit of the excavations of this ancient Roman city which was destroyed by the eruption of Mount Vesuvio in 79 b.C. and buried under 4 to 6 meters of ash and stones. Proceed to Sorrento, a charming town of the Sorrentine Peninsula famous for the cultivation of Oranges, Lemons and Olives trees. Dinner and overnight at the hotel.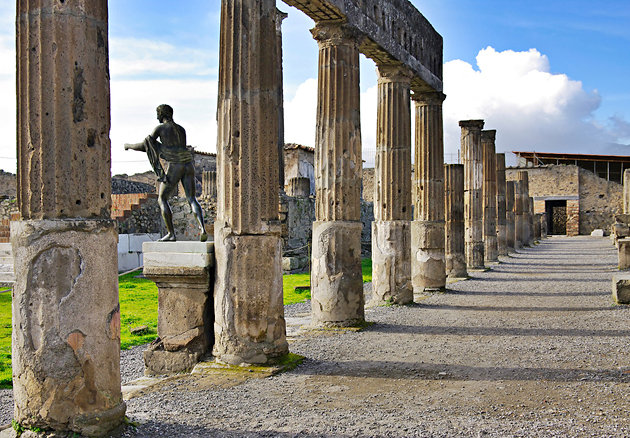 DAY 8 –  SORRENTO/CAPRI/SORRENTO

American buffet breakfast at the hotel, and departure at 9.15am to the island of Capri. You will board the ferry and arrive in Marina Grande. Once on the island you will visit, the Blue Grotto (weather permitting-which if wishing to participate, will pay on the spot), the Augustus Gardens and stop at the famous Piazzetta. A Minibus will take you up to Anacapri. After lunch in Anacapri, you will return to Marina Grande where you will board the ferry for your transfer back to Sorrento. Dinner and overnight at the hotel.

DAY 9 – SORRENTO/ROME

American buffet breakfast and rest of the day at leisure to explore the popular and attractive town of Sorrento. You may also visit on your own the other famous villages of the peninsula, like Positano, Ravello or Amalfi. Meeting point at hotel at 3.30pm where you will meet the tour leader, board the motor coach, and return to Rome. The arrival time is expected to be around 9.00pm. Overnight.
DAY 10 – ROME

After breakfast, end of tour. Arrivederci!
Ask your representative about special discounts on additional nights prior or after your tour and/or inquire about including a departure transfer.
NOTE: 1) Participants must bring with them only 1 piece of luggage (which will be stowed in the bottom compartment of the coach bus, during check-in and check-out from accommodation) Only one carry-on or purse is permitted on board. 2) In Sorrento, when dinner included in the program, we highly recommend to wear long trousers, in order to be admitted to the restaurant hall.
Monday & Saturday Departure(s)
| MONTH (2016) | | | | | | | | | |
| --- | --- | --- | --- | --- | --- | --- | --- | --- | --- |
| APRIL | 04 | 11 | 18 | 25 | | | | | |
| MAY | 02 | 07 | 09 | 14 | 16 | 21 | 23 | 28 | 30 |
| JUNE | 04 | 06 | 11 | 13 | 18 | 20 | 25 | 27 | |
| JULY | 02 | 04 | 09 | 11 | 16 | 18 | 23 | 25 | 30 |
| AUGUST | 01 | 06 | 08 | 13 | 15 | 20 | 22 | 27 | |
| SEPTEMBER | 03 | 05 | 10 | 12 | 17 | 19 | 24 | 26 | |
| OCTOBER | 01 | 03 | 08 | 10 | 15 | 17 | 22 | 24 | 29 |
MONDAY & SATURDAY  DEPARTURES

  from APRIL 04, 2015 to  OCTOBER 29, 2016:
4 STAR  |  DOUBLE  

$2,365

 |  TRIPLE 

$2,139

|  SINGLE 

$2,949


*Prices are in CAD Dollars, per person for specified package, in specified room type
DOUBLE: Based on 2 adults sharing one room (1 Queen/King -OR- 2 Individual Single/Twin Beds as per clients request)
TRIPLE: Based on 3 persons sharing one room (1 Queen with 1 Single Bed OR 3 Individual single beds as per clients request, confirmed at the time of booking)
SINGLE: Based on 1 person sharing the room (1 Single Individual bed OR 1 Double Bed depending on availability)

Hotels used on Tour or Similar

FLORENCE: HOTEL RIVER OR MEDITERRANEO 4*
VENICE: HOTEL CARLTON GRAN CANAL 4*
ROME: HOTEL MORGANA 4*
SORRENTO: HOTEL VESUVIO 4*
Hotels listed are based on availability, and are confirmed at the time of booking.
Terms & Conditions:
Terms and conditions apply as published catalog tour. Click here for full booking details, policies and terms and conditions.