Where are the Azores?
The Archipelago of the Azores is located in the blue Atlantic Ocean, between two continents: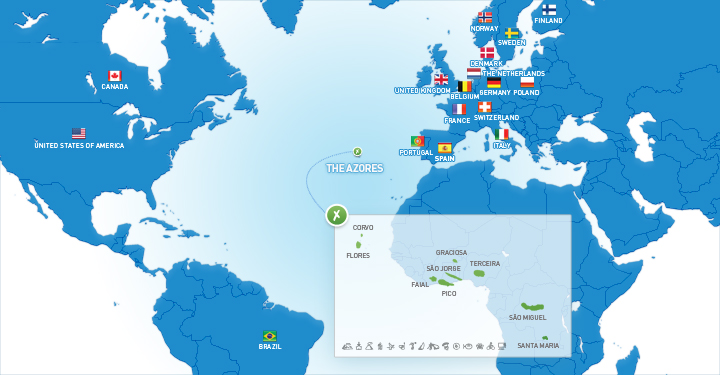 All the nine islands of the Azores Archipelago are volcanic origin and are located roughly between 37° and 40° north latitude and 25° and 31° west longitude, with the island of Flores marking the westernmost border of the European continent. 244,780 people (2008 data) live in the 2,325 sq. of this island territory, which is part of the Portuguese state and constitutes the Autonomous Region of the Azores.
The islands of the archipelago are divided in three geographical groups: the Eastern Group, comprising Santa Maria and São Miguel, the Central Group, including Terceira, Graciosa, São Jorge, Pico and Faial, and the Western Group, composed by Corvo and Flores. The Azores, along with the archipelagos of Madeira, Canary Islands and Cape Verde, constitute the biogeographic region of Macaronesia, a name which means "fortunate islands" for those who live there and visit them.
The Nine Islands