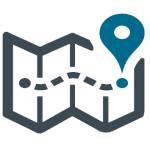 ITINERARY:
Monção: Palácio da Brejoeira – Designated National Monument since 1910, built in early 19th century by a nobleman of the royal court and a knight of the Order of Christ – Luis Pereira Velho de Moscosa. Visit to the interior of the palace, Chapel and Gardens, Woods, Ancient Cellar and Vineyards and tasting of wine Alvarinho Palácio da Brejoeira.
Valença: The plaza/stronghold is one of main military fortifications of Europe with a perimeter of around 5 kilometres of fortified walls. Visit to the Walls and Historical Centre, passage through the historical bridge of Valença (1879) which connects Portugal to Spain.
Viana do Castelo: City of the 13th Century, founded in 1258.Visit to Santa Luzia + Historical Centre
Includes: transferes, guided tour and lunch
SCHEDULE: Everyday, except Monday from 1/10 to 30/06.
PRICE: On Request.
*Prices are in Euros, per person, subject to availability and change without prior notice.