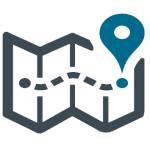 INCLUDES VISITS TO:
For those seeking total autonomy in discovering Portugal.
An interactive guide and a folder will be provided. This guide will be your companion for you to enjoy at your
own rhythm , the destination.
PICK-UP LOCATIONS: 08h40m Restauradores / 08h40m Pombal / 08h55m Campo Pequeno / 09h00m Praça de Espanha
DROP OFF HOTELS: Not available
FATIMA: Tue + Sun 8hrs 40min. OBIDOS: Mon + Wed 8hrs 40min.
SCHEDULE: FULL DAY
PRICE: FATIMA: On Request | OBIDOS: On Request
*Prices are in Canadian Dollars, per person, subject to availability and change without prior notice.
NOTE: 25th Dec. & 1st Jan. These tours do not operate
CHILDREN: 0-5 yrs old free of charge / 6-10 yrs old 50% discount
TOURS FROM LISBON: Supplement for pick up in Estoril, Sintra or Cascais ($15 per person)
WESTERN AREA: Program and pick up for guests staying between Lagos, Portimão, Albufeira until Faro
EASTERN AREA: Program and pick for guests staying between Pedras del rei, Tavira e Montegordo until Faro