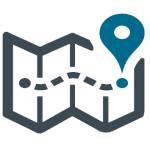 ITINERARY:
Day 1: Lisbon/Almourol/Tomar
Leaving Lisbon, we set off for one of the most representative monuments of the Knights Templar in Portugal: Almourol castle. Located on a small island in the River Tagus, this is one of Europe's most emblematic monuments. We then proceed onward in the direction of the Castle and Convent of Tomar – the Order's headquarters. This is undoubtedly one of the finest architectonic works existing in Portugal.Here, we encounter the Castle with its imposing bulwark, the Charola – considered the best preserved Templar church with a centralized layout. The enigmatic Manueline window and the main cloister, a masterpiece of the European Renaissance.We visit the Church Sãp João Batista, the Matrix church of Tomat,with its original structure , manueline style. Church of Santa Maria dos Olivais, fine example of Gothic architecture served as the pantheon for the grand masters of the Order.
Day 2: Tomar/Dorne/Batalha/Sintra
We first set off for the pretty setting of Dornes, located alongside the river tagus. Here, we tour the Templar tower, also known as the Tower of Dornes. We then follow this visit to CIBA-the Battle of Aljubarrota Interpretation Centre. This provides the opportunity to"releve" one of the most important battles of Medieval Europe.We then advance to Monastry of Alcobaça with its church containing one of the largest Cistercian abbeys in Europe. This architectural masterpiece was built on the order of D.Afonso Henriques, the founding king of Portugal, and encharged to Saint Bernardo de Claraval, principal abbot in the Cistercian order and great mentor in the Order of the Knights Templar. We then depart in the direction of Sintra.
Day 3: Sintra/Lisboa
We begin the day with a visit to Quinta da Regaleira, a leading example of the Romantic architectural style and one of the most esoteric and mysterious places in portugal.Repleat with neo-Templar symbols such as the iniciation well. We then take in the Belém Tower and the National Navy Museum in Lisbon.
SCHEDULE: Tuesdays ( guaranteed dates) / Minimum 4 persons  | Time: 9:00am
PRICE: 01 Jan – 31 Oct 2017: IN DBL $928 | IN SGL $965
INCLUDES: Accommodation on buffet breakfast basis at Hotel dos Templários 4* in Tomar, Tivoli Sintra 4* in Sintra 4* or similar,
Transport by air conditioned bus or minivan as per itinerary and guide during entire tour, taxes
NOT INCLUDED: Other expenses or personal ones, dinners, entrance fees other than mentioned.
*Prices are in Canadian Dollars, per person, subject to availability and change without prior notice.
Save
Save
Save
Save
Save