About the Hotel
Modern Hotel in Santa Cruz
Graciosa Resort and Business Hotel is gracefully nested in Graciosa island's landscape, with basalt rock of volcanic origin skirting the vineyards and blending onto the green fields and the blue sea. The Graciosa hotel offers 43 standard rooms, 2 senior suites, 1 room prepared for people with motor difficulties and 6 villas. To provide moments of pure leisure and rest Graciosa hotel features a restaurant, bar, meeting room, exterior swimming pool, gymnasium and sauna.
The standard Rooms are ample and with balcony, complete bath and hairdryer, TV 26′ LCD with pay TV (pay per view), air conditioning, mini-bar, work desk, with telephone, Internet and amenities. The Suites beside the standard room, makes use of the superior floor, living room with kitchenette and Bathroom. It can be used as a private conference room. Exclusive and privileged view of the sea is its strong point. The 4 person Villas have 2 rooms (1 couple's bed and 2 twin beds), 2 bathrooms, 1 living room/ dining room and kitchenette. It also has a private solarium on the top of the Villa, with privileged sight to the swimming pool, vineyard and sea. Excellent for family vacations.
This hotel also has a room for people with motor difficulties, completely equipped with all the comfort necessary to exceed any obstacle. Numbers of rooms include 43 standard rooms, 1 room prepared for people with motor difficulties, 2 deluxe suites and  6 villas.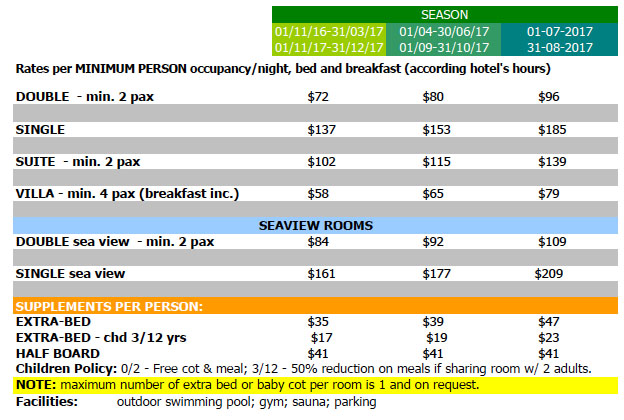 Save
Save
Save
Save
Save
Save
Save
Save
Save
Save
Save
Save
Save
Save